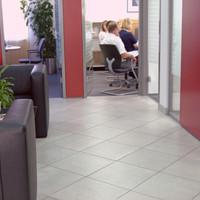 Ceramic Tile & Grout Cleaning and Protection
One of the biggest challenges with tile flooring is keeping grout clean. Porous grout lines trap dirt over time, causing your tile to look dull and sullied in appearance. A mop can only do so much. Our hard-surface cleaning tool generates high-pressure water that works with our cleaning solution to give you a much deeper clean.

At ServPartners, our six-step tile and grout cleaning process gets your grout clean and keeps it looking its best. It can be used on both ceramic and porcelain tile and is ideal for kitchens, baths, countertops, and other tiled areas of your office.